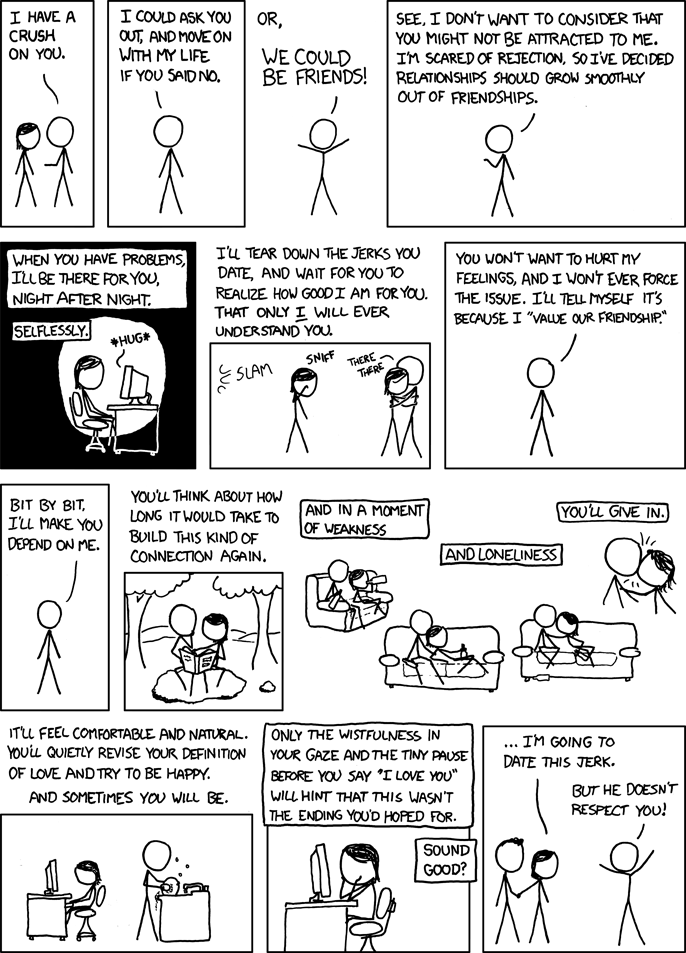 Have you ever been through this? It is a mean and dirty trick. Unfortunately my last experience with this ended really really poorly. It never happened like that, but he gave up, got angry and lashed out in a childish and dangerous way. Anyway, when I read this comic today it was like they had taken a chapter out of my life. I know others who have gone through this, men who are only their friend because they hope it would get them someplace else.

I really wish the chapter in the Men's Handbook (because I know there is one somewhere) that says "Become her friend first" would just get burned. I'm not saying men and women can't be friends and I'm not saying that friendships can't lead to some great romantic relationships. Just be honest about what you want straight up, if you want a friend be a friend, if you want to get in her pants, tell her you want in her pants. Becoming her friend as a means to another end is a lying and manipulative game that will never end well. If you have to trick a person into wanting you, you will spend the rest of your life wondering if they are happy and getting what you want will never really be what you want.

Ramble, ramble, ramble and done.

Something else totally awesome you should try (pointed out by the awesome fellas at The Penny Arcade) is Auditorium. It reminds me a lot of Flow with a very relaxed game, beautiful music, but much more problem solving straight from the beginning.

Speaking of The Penny Arcade, you may notice a new button for Child's Play on the bottom right. I don't know what took me so long to get one up here but it is a great cause that brings many smiles to the faces of sick children.

And seeing as On The Rain-Slick Precipice of Darkness: Episode 2 is now out, I should probably finish Episode 1 right? I mean I was at the final boss when I stopped for Pete's sake. Maybe this weekend. Then I can get Episode 2 for my trip home for Christmas. I love my family but let's face it, an entire week and somewhere in there I will need some game time with the mantra "must not kill real people, love my family" in my head over and over again. Just sometimes a little deep breath and hitting things with a rake can be good for you (you totally hit things with a rake in Episode 1, I love it!).

Thanksgiving and Knitting!!!
I went to Montana for Thanksgiving and spent the holiday with one of my oldest and dearest friends. Then we drove to Idaho to surprise our families. Saw fireworks and the Coeur d'Alene tree lighting and parade, then had a bonfire on Saturday night at my parents place. Luckily the Mountain passes were totally clear and the second we arrived in Post Falls we started getting snowed on (YAY!). Then it all melted off before we left on Sunday and the passes were clear for the trip back to Montana.

I don't have any pictures for you of FOs but I made two Collars out of Lion Brand(R) Wool-Ease(R) Chunky Yarn
. One for me because guess what, when I got to Montana, it was COLD. The air, it was COLD. I forgot what 40 degrees felt like and even though I was chilly I loved it! The other was for my mom, who loved mine. I didn't finish it before I left though so I need to mail it home with the rest of my Christmas presents this weekend. I also made two hats, one for my girl's husband and then after I found out that my girl was allergic to wool (!!!) I bought some Lion Brand(R) Lion(R) Suede Yarn
and made her another one (so she got 2!).

Now I cannot say I loved the Suede. It is soft enough to the touch and I think she really liked the hat once it was on, but damn was it squeaky and hard on the hands. Also I'm not real confident in my end weaving. I'm not sure it will hold through the wash so I told her not to put it in the washing machine.

Also, did I mention it was cold? I busted out a leg warmer with the chunky riding in the car to Idaho. One leg warmer. I started a second, but NOT before I put the first one on. Good news is they fit under my jeans so no one could see that I was only wearing ONE leg warmer. Took me another day to finish up the second because I didn't get a ton of knitting time what with the surprise home and all but I had two long before I left Idaho.

Since I got back to San Diego it has been in the 60s all week and my walk to and from the bus stops has been chilly. I forgot to wear my leg warmers but have been wearing my collar all week.

I pass by a tree lot twice a day everyday and it smells sooo good. I decided to surprise Roomie with a tree as she has had a rough week and tonight we are going to decorate it. It is on the patio because kitties eat greens and the smell of the pine wafting in the open window is fantastic. Hopefully this will help us get into the holiday spirit.