My very first spinning skein, Charlie, is being turned into a matching set of collars. One for myself and the other for my friend Rachael. One is complete, only taking me one day and missing 5 buttons which we have decided to shop for together when I get to Seattle for New Year's Eve. Got a great place to go for buttons in Seattle?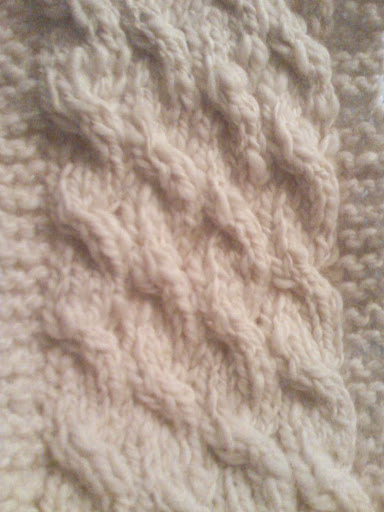 The color of this yarn (very creamy which might be hard to tell) just screamed fisherman's sweater and cables at me. Literally. You should have heard it. I thought the neighbor's were going to call the police on me and report a battered skein of yarn.

The picture below is much worse than the above. I started a scarf at the request (and yarn purchase) of my Aunt.  I have started the Interlocking Balloons Pattern (Rav Link) from Scarf Style: Innovative to Traditional, 31 Inspirational Styles to Knit and Crochet (Style series).  It is knit in Yarn Vanna's Glamour-Platinum.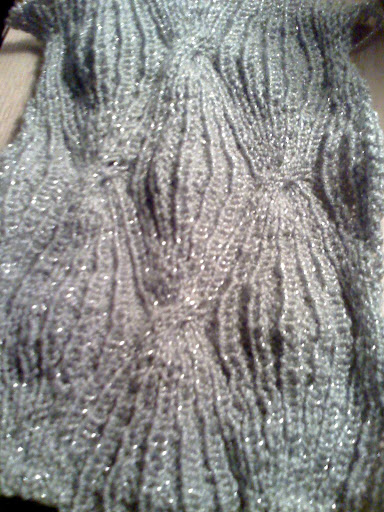 I have to admit, one of the reason's that I purchased this book was because one of the most prominent models looks like Zooey Deschanel and I just wanted to look at her. I never intended to make any of these patterns. I really like the Interlocking Balloons however and after a repeat and a half of the chart I'm starting to get a feel for it. I think I'm going to have to copy the chart however, I probably won't be able to memorize it.